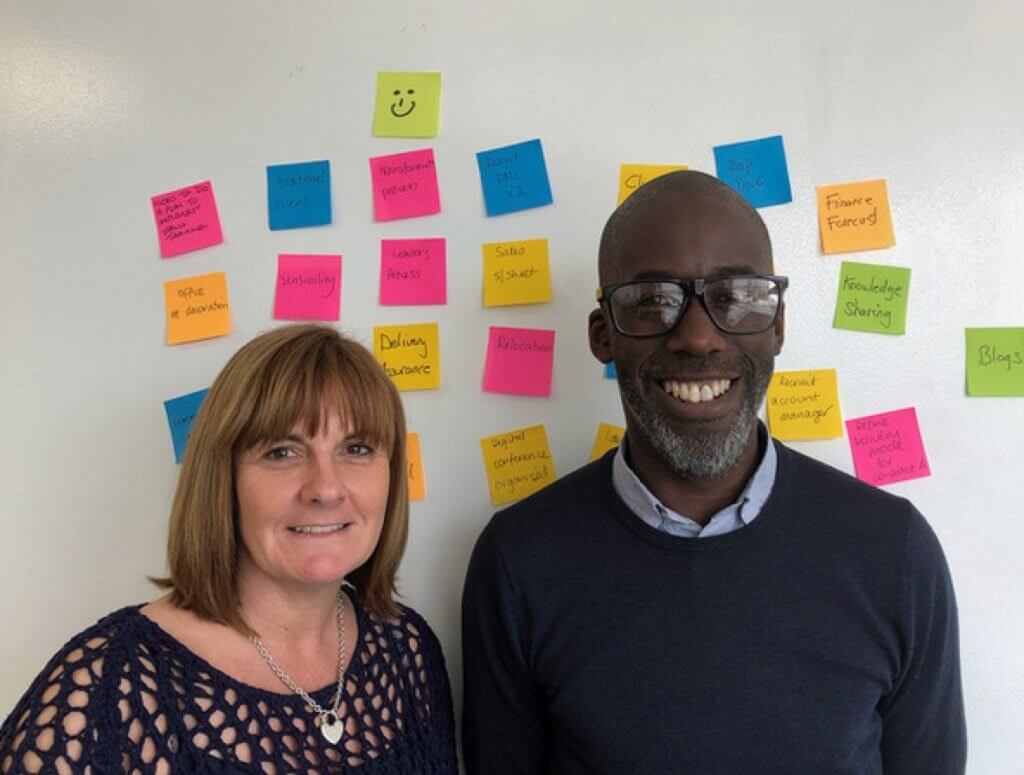 LONDON–(BUSINESS WIRE)– Agilesphere, a partnership of talented experts dedicated to helping clients with their digital transformation through its strategy, coaching and delivery services, is preparing to scale up its business with two new strategic appointments. Following a comprehensive and competitive search process, Agilesphere welcomed Louise Jackson as Client Principal and Roger George as Head of People.
Louise Jackson will be working with the Department of Health and the Overseas Health Service. She joins from the Ministry of Justice where, for the last three years, she was managing the implementation of digital programmes.
Louise said, "I'm excited to join Agilesphere at this time, particularly with the opportunity to influence Agilesphere's direction while growing the business.
"Having decided to leave the civil service, I was really pleased to receive an offer from Agilesphere that would allow me work in an agile way, using the principles and methodologies I've learnt to benefit other government departments."
Davina Sirisena, Agilesphere CxO, said,
"We're focused on building the ability of the company to service and grow client relationships, while simultaneously improving our internal processes. Louise's experience of delivering government digital services at scale and pace is indispensable. This will allow Agilesphere to focus on scaling effectively.
"Louise understands the pressures that civil servants are under having lived them herself. She has also been through the ongoing journey to digital government and can help anticipate challenges, and offer creative solutions."
Appointed as Head of People, Roger George will concentrate on recruiting new talent and matching them to unique roles within Agilesphere.
With more than 10 years' agency recruiting experience and expertise in the digital sector, Roger joins Agilesphere after four years as Senior Talent Partner at Adobe – with responsibility throughout the EMEA region.
On his appointment, Roger said,
"I share Agilesphere's values of experience, co-operation, creativity and fairness. I am looking forward to building its service through focusing on long-term relationships.
"I'm also looking forward to working with Agilesphere's community of experienced freelancers and its unique offering where everyone involved has the opportunity to share in profits."
Jeremy Renwick, Agilesphere CxO, said,
"Part of Agilesphere's purpose is to find good work for talented agile/digital people. We created the Head of People role because we're a people business and Roger's expertise in linking people's networks together is very valuable."
Speaking on both appointments, Jeremy added,
"Now Agilesphere can deliver new digital services faster and more efficiently. By making sure all sides of the business grow in parallel, Agilesphere will be able to scale while ensuring the quality of the services provided."
Agilesphere is a 100-strong community of experienced consultants who specialise in using agile techniques and working practices to transform services, organisations and society for the better. The organisation has supported a diverse range of government and private sector organisations in delivering transformational change at scale.
These appointments result from a growth in business, including a strong demand from the private sector. This follows the appointment of John Michaelides last year as the Head of Operations and Strategy.